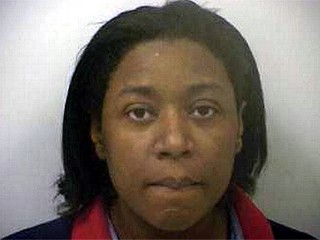 Police have now formally linked the calls that triggered the raid on the FLDS Yearning for Zion Ranch in Texas to Rozita Swinton
(pictured above)
, a 33-year-old Colorado Springs woman who they say has assumed at least nine different personalities since 2005, among them "April," "Dana," "Ericka" and "V." Primary source is a lengthy story in the
Salt Lake Tribune
, which is considerably whittled down and summarized in this post.
An
additional story
in the Salt Lake Tribune provides a complete list of all the personalities assumed by Rozita Swinton. And a
third Tribune story
provides more specific information about the interaction between Swinton and anti-polygamy activist Flora Jessop. Note that all Salt Lake Tribune stories disappear into paid archives after 30 days.
All the personalities assumed by Swinton are girls who called for help claiming to have been sexually abused - by a father, an uncle or a husband, court records show. Rozita has explained the girls' presence to shelter workers by saying that they are there to "protect" her.
Rozita has worked full-time for an insurance company for seven years, attends community college part-time for general study courses,
and is a practicing Mormon (mainstream LDS)
. She is her neighborhood's delegate to the state Democratic convention, pledged to Barack Obama. And she's also a person diagnosed with dissociative identity disorder who blanks out chunks of time and unplugs from the world around her - like she did the week of the April 3rd raid, according to her roommate, Becky Hoerth.
Hoerth, who moved in with Swinton the day after the raid, described Rozita as quiet, gripped by a mental state that is "not anything you can even break into." It wasn't until a week later that Rozita "started coming around," joining Hoerth for dinner and mountain biking, she said.
Based upon her phone call, and believing she was really Sarah Barlow, Texas authorities invaded the FLDS ranch, then decided to remove 464 children from their parents.
Rozita Swinton had a troubled childhood. Her father and her mother conceived both her and her brother Courtney out of wedlock and never married. She ended up in Tennessee's foster care system at the age of 14 after running away from home and claiming that her father, Clarence Swinton, was abusing her. Clarence denies the allegations.
Clarence met Rozita's mother during his 12-year stint in a Tennessee prison. He was convicted of first-degree murder in 1965 for shooting the owner of the Outlaw Grocery in Murfreesboro during a robbery. The robbery was the last in a string of crimes committed by Clarence, then 25, and Robert Winchell, 22, both soldiers stationed at Fort Campbell. Clarence bought a bag of cookies in the store, left, and then returned and opened fire on a customer, who survived, and the store owner, who died three days later. The pair was sentenced to 99 years, but in 1976 Swinton was granted a clemency hearing before the Board of Pardons and Parole. It recommended commuting his sentence with parole supervision for 15 years.
Colorado Springs police appear to have first investigated Rozita for false calls in June 2005 - after a desperate 16-year-old named Jessica told an adoption agency she wanted to abandon her newborn son and kill herself. The agency called police - who traced Jessica's phone number to Rozita. Rozita said she thought she had been asked to come to the police station to "do a report [on] her dad" - not to be questioned about making a false report and obstructing justice. But Rozita later admitted there was no baby to be concerned about, but claimed she bore a daughter by her abusive father.
Rozita was put on probation. But police say she continued to make a blizzard of calls, including one in February 2006 that prompted Colorado Springs police to conduct a door-to-door search for "Jennifer," a young girl claiming to be locked up in a basement.
Then "Sarah Barlow" started calling for help in late March 2008. Because Swinton demonstrated such extensive knowledge about the Texas FLDS operation, Texas authorities were genuinely convinced she was abused and in danger at the YFZ Ranch, and so launched the raid. But as Sarah remained missing, police connected the cell phones used to make the calls to Rozita. On April 16th, as previously discussed
in this post
, officers searched her apartment and asked her to come to the Colorado Springs Police Department. Around 10:30 p.m., she was placed under arrest in connection with a false call in Colorado, but an unidentified friend bailed her out for $20,000 two hours later. Texas Rangers participated in the interrogation but laid no claim to her at that time, although on Friday May 30th, a spokeswoman for the Rangers said that Rozita remains a "person of interest" in connection with the YFZ Ranch calls as they await unspecified test results.
Charged in Colorado with one count of false reporting, Rozita is scheduled to appear in El Paso County District Court for a pre-trial conference Friday June 6th. Ironically, on that same day, her brother Courtney will appear in a Nashville court to answer charges of possessing and selling cocaine.
Update: On June 7th, the
Deseret News
reported that Swinton's hearing will be delayed until July 9th at the behest of her lawyer.
In other FLDS news, the
San Angelo Standard-Times
reports that the FLDS children aren't going home this weekend. Texas 51st District Judge Barbara Walther left the courtroom Friday evening (May 30th) without signing an order that would have started the reunification process with parents of the more than 400 children from 1,700-acre polygamist sect ranch near Eldorado. It was a sudden twist in a hearing that went on for more than four hours and introduced three distinct proposed orders that would have led to reuniting children and their parents.
In the end, Walther left after saying the court would sign orders when mothers from the ranch agree to them. That means the children won't leave shelters this weekend, said lawyers who represent mothers and children in the case. The lawyers also said that they will file more court documents Monday June 2nd asking the Third Court of Appeals to make Walther release the FLDS children.
The Texas Supreme Court on Thursday agreed with the Third Court of Appeals in ordering Walther to vacate her ruling that gave the CPS custody of about 450 children taken from the ranch. However, the Supreme Court stopped short of ordering an unconditional return of the children in question, leaving open questions of when children will be reunited with their families, how it will be done, and what conditions CPS will seek on the reunification.