Update: Rozita Swinton now confirmed to have placed the bogus calls. See updated post
HERE
.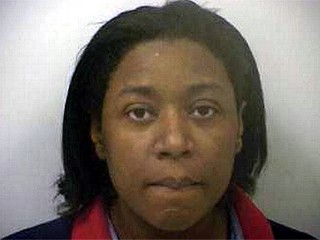 The "13-year-old" whose reports of abuse triggered the massive military-style raid on the Fundamentalist Latter-day Saint (FLDS) compound in Eldorado, Texas may actually be a 33-year-old woman arrested in Colorado Springs on Wednesday April 16th, 2008. Story reported by
KUSA Channel 9
in Denver,
KMGH Channel 7
in Denver,
ABC News
, the
Deseret News
, and the
Denver Post
.
Discussion available on
Free Republic
and the
Vanguard News Network Forum
.
According to a release from the city of Colorado Springs, police arrested 33-year-old Rozita Swinton at her home on Wednesday on a charge of false reporting to authorities, a misdemeanor. The incident she was arrested for happened in February. Swinton was taken to the El Paso County Criminal Justice Center. After posting $20,000 bail, she was released.
However, according to the city's release, the Texas Rangers were also in Colorado Springs as part of their investigation involving the compound in Texas, and were present during Swinton's arrest. The Rangers departed Colorado Springs after the arrest without laying any claim on Swinton. The Colorado Springs Police Department says it cannot discuss any further details of the Texas case. A TV station in Arizona is reporting Swinton made false calls to the Texas authorities, sparking the raid at the FLDS compound.
Texas authorities needed a criminal complaint before they could get a warrant to storm the compound. They got it when they claimed a 16-year-old girl named Sarah called them for help, saying she was inside the ranch, pregnant and scared of her abusive 50-year-old husband. That alleged "50-year-old husband" was identified as Dale Barlow of Colorado City, AZ, who was interviewed by Texas Rangers this past weekend (April 12th) and
who has been specifically cleared of any involvement
. It was proven that not only has Barlow not been to the FLDS Ranch, but had no opportunity to go there because he would have needed to apply for travel permission from his probation officer.
One former member, who has been an outspoken critic of polygamist practices, says she thinks she may have talked to Swinton on the phone, with Swinton claiming to be Sarah's twin sister.
Flora Jessop
says the woman she believes is Rozita Swinton called again Thursday morning (April 17th) after Swinton bailed out of the El Paso County Jail. "
I did get her to admit to me her name was Rose
," Jessop said. The
Denver Post
reports that Texas Rangers, with the consent of Jessop, traced Swinton's calls to Colorado Springs, which led them there. Here's an
April 17th CNN story
about Flora Jessop.
The affidavit for the case in Colorado Springs has been sealed, but Jessop says police arrested Swinton for making false calls somewhere in Colorado, claiming to be an abused child. Media sources have also learned that Swinton was arrested in Castle Rock two years ago for making a false report.
Meanwhile, down in San Angelo, Texas on April 17th, it was a veritable zoo as
dozens of lawyers crammed into the courtroom
to plead their clients' cases before the judge. The
San Angelo City Auditorium was reconfigured
to serve as an overflow center. In testimony, a child protective services worker named Angie Voss testified that
she found the FLDS ranch a "very scary environment"
, but conceded that there was minimal signs of actual abuse.
But the most comprehensive boots-on-the-ground coverage of the day's activities is contained in the San Angelo Standard-Times. Click
HERE
for a log of the April 17th hearing.
City residents have opened their homes
to the expected 350 lawyers to compensate for the lodging shortage. This small West Texas town of just under 90,000 people has risen to the occasion, and its gutsy little newspaper has done likewise.
As for Rozita Swinton, if she's found to have filed a false report, she ought to be severley punished because of the massive impact of her actions. Ten years in jail and a substantial fine would not be too much.