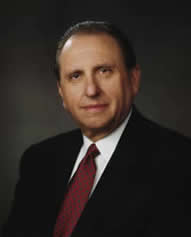 With the
death of President Hinckley
, the First Presidency has been dissolved, and the Quorum of the Twelve temporarily becomes the governing body of the church. President Hinckley's counselors, Presidents Thomas S. Monson and Henry B. Eyring, took their places — first and 11th — within the 14-member quorum.
According to custom and tradition, the senior ranking Apostle (based upon date of ordination to the Quorum of the Twelve) now becomes the President of the Church. The present quorum's senior member is Thomas A. Monson. Thus, barring any unusual developments, he is expected to be ordained to the Presidency after the funeral of President Hinckley. This should take place within a week to 10 days. He would become the 16th President of the Church.
The order of succession among the apostles is as follows:
1. Thomas S. Monson - Ordained 1963
2. Boyd K. Packer - Ordained 1970
3. L. Tom Perry - Ordained 1974
4. Russell M. Nelson - Ordained 1984
5. Dallin H. Oaks - Ordained 1984
6. M. Russell Ballard - Ordained 1985
7. Joseph B. Wirthlin - Ordained 1986
8. Richard G. Scott - Ordained 1988
9. Robert D. Hales - Ordained 1994
10. Jeffrey R. Holland - Ordained 1994
11. Henry B. Eyring - Ordained 1995
12. Dieter F. Uchdorf - Ordained 2004
13. David A. Bednar - Ordained 2004
14. Quentin L. Cook - Ordained 2007
One thing we can say about Thomas S. Monson; there is no one - and I mean no one - who understands the inner workings of the Church of Jesus Christ of Latter-day Saints better than he. President Monson has been a member of the Quorum of the Twelve since 1963, when he was ordained as an Apostle at the unusually young age of 36. So he was marked for stardom early. That's 44 years continuous service.
According to an article in the
Salt Lake Tribune
, Thomas Monson began is life in Salt Lake City on August 21st, 1927, born to G. Spencer and Gladys Condie Monson. After a relatively routine childhood, he served in the U.S. Navy toward the end of World War II. Afterwards, he graduated from the University of Utah with honors in 1948 with a business management degree. On October 7th of that same year, he married Frances Beverly Johnson in the Salt Lake Temple. They have three children and eight grandchildren. An official LDS biography can be found
HERE
.
President Monson then entered the publishing and printing business, joining the church-owned Deseret News in 1948, where he worked as an advertising executive and the Newspaper Agency Corp. Later he became general manager of the Deseret News Press, a commercial printing firm. He continued his association with the newspaper until 1996, when he retired as board chairman after 19 years. President Monson is also a past president of Printing Industry of Utah and a former member of the board of directors of Printing Industry of America.
Extremely civic-minded, President Monson has served on a wide variety of additional boards and clubs. Since 1969, he has served as a member of the National Executive Board of Boy Scouts of America. This is much more important than it appears on the surface, because the Boy Scouts are the official youth program for young boys in the LDS Church; nearly every ward sponsors Cub Scout dens, Boy Scout troops, and Explorer Posts. His experience with the Scouts will better the Church's ability to cope with the increasing political attacks and oppression directed against the Boy Scouts by the homosexual rights lobby, which nurtures a persistent, excessive, and unhealthy interest in our youth.
President Monson has also been a member of the Utah Association of Sales Executives, the Salt Lake Advertising Club, and the Salt Lake Exchange Club. He's also served as a member of the Utah State Board of Regents, the body which governs higher education in the State of Utah. And finally, he's also served as an officer in the Alumni Association of the University of Utah.
In recognition of his civic service, President Monson was awarded the University of Utah's Distinguished Alumnus Award in 1966. He is also the recipient of the Boy Scouts of America's Silver Beaver Award (1971), its prestigious Silver Buffalo Award (1978), and international Scouting's highest award, the Bronze Wolf (1993). In 1997 he received the Minuteman Award from the Utah National Guard, as well as Brigham Young University's Exemplary Manhood Award. In 1998 he and Sister Monson were each given the Continuum of Caring Humanitarian Award by the Sisters of Charity of St. Joseph Villa.
In reviewing his Church service record, one can see that President Monson got on the fast track early. He was ordained a bishop of Salt Lake City's Sixth-Seventh Ward at age 22 (which would not be unusual in the student wards at BYU, but is quite uncommon at a normal ward where you have the standard variable age mix). After subsequently serving in the presidency of the Temple View Stake in Salt Lake City, he was called as president of the Canadian Mission in 1959.
On October 4th, 1963, Thomas S. Monson hit the big time - he was ordained an Apostle and began his service on the Quorum of the Twelve. On November 10th, 1985, he was set apart as second counselor to President Ezra Taft Benson, remaining in that capacity after Howard W. Hunter became church president. Then on March 12th, 1995, he was set apart as first counselor to President Hinckley.
President Monson's penchant for diplomacy enabled him to function as an envoy for the church, dealing with governments wary of the LDS Church's presence in their nations and the legal issues involved. His two decades of quiet efforts in Eastern Europe culminated in the announcement of an LDS temple in Freiberg, Germany, behind the Iron Curtain, while Erich Honecker was still in charge of East Germany.
As far as personal characteristics, the 80-year-old Monson is a folksy orator known for his compassion, fondness for modern-day parables of struggle and spiritual triumph, and willingness to enlist non-Mormons in humanitarian causes. He repeatedly talks of being spirituality prompted to help the disadvantaged and outcast, a lesson he learned during the waning years of the Great Depression.
"
I remember that time and time again those who were riding the rails came to our home. I think they had it marked
," Monson told The Salt Lake Tribune in a 1998 interview. "
I can see [a hobo] now, holding his cap in his hand. He asks, 'Is there something I can do to earn a sandwich?' My mother would say, 'You come right in and sit down; wash your hands over there in the sink.' And then she'd make a sandwich
."
A tall man with a big grin, Monson is "
a robust, buoyant, whirlwind of a man who might have been a superb basketball player in his youth had it not been required of him. . .[to] forgo the pleasure of extracurricular school activities in order to work at his father's side in the printing business
," fellow apostle Jeffrey R. Holland wrote in a biographical essay.
However, Thomas S. Monson has his detractors. One, the editor of the
MormonCurtain.com
website, which is an anti-Mormon website run by an ex-Mormon, offered
the following assessment
as to what to expect from a Monson Presidency:
Thomas S. Monson to me seems like the typical "yes" man. He gives his inspiring talks and that's about it. I really don't see the guy working with the church's accounting and legal departments and micro managing like Hinckley did. I think Monson will just let the church run itself as is while he visits the saints and talks about how the home teachers reactivated an inactive family or how an Aaronic priesthood holder saved a poor old widow.
However, the editor of the website seems to have an axe to grind against the Church because of a possible misunderstanding involving Monson, further described
HERE
. So this needs to be taken into account.
I think we'll see a lot more out of a Monson Presidency. First, because of his intimate knowledge of Church infrastructure, we'll see him look for more ways to deliver a bigger bang for the tithing buck, so to speak. The Church will look for ways to operate more efficiently. And as the American economy continues to devolve slowly, this will become important if tithes and offerings abate as a result.
And secondly, his diplomatic skills could help establish the Church in the one area of the world where it has just scratched the surface - Eurasia. The Church has a negligible presence in Russia, China, and South Asia. Latter-day Saints believe the restored Gospel must be preached throughout the entire world before Jesus Christ will come again, and this area has hardly been touched.