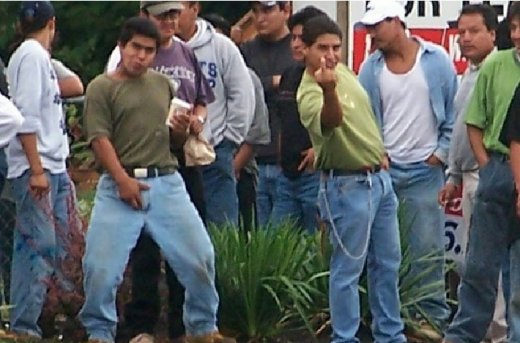 A new statewide Deseret Morning News/KSL-TV poll, conducted by
Dan Jones & Associates
, suggests most Utahns want their state and local lawmakers to crack down on illegal immigration. Full story published in the
Deseret Morning News
.
The poll revealed that some 70 percent of 409 registered voters said they'd be more likely to vote for candidates who advocate a tough stand on illegal immigration through new laws. Only 18 percent would be less likely to vote for a get-tough candidate, while 11 percent did not know. The margin of error is plus/minus 5 percent.
And this consensus extends across party lines. As expected, 77 percent of Republicans supported a harder line. However, even a majority of Democrats, 56 percent, also indicated they'd prefer a get-tough candidate. Sixty-seven percent of independents also said they'd be more likely to vote for a get-tough candidate.
The results seem to indicate most people recognize a problem and want a solution, said Kirk Jowers, director of the
Hinckley Institute of Politics
. "
I think what the question does not answer is what form that solution will take
," he said. "
Utahns have shown they are sympathetic to the children of illegal immigrants and giving them opportunities, but they certainly want people to abide by the law and favor legal immigrants over illegal immigrants
."
Jowers said the poll comes after federal lawmakers have continually failed to address the issue. In the meantime, some other states are starting to crack down. Jowers said that is creating a perception, which may or may not be true, that states that don't crack down will see an influx of illegal immigrants. "
It is a scary combination of federal inaction and public frustration with the immigration problem
," he said. "
The state is between a rock and a hard place
."
And local candidates not perceived as tough of immigration are already paying the price. In St. George, City Councilman Rod Orton blames the immigration issue for his recent primary loss, which cut short his bid for re-election. "
I think it determined the election
," Orton said. "
There's no question that it had an impact
."
But Orton said St. George already has done what it can to address the issue of illegal immigration. He said many residents seemed to be infuriated when he expressed that view on a recent radio call-in program. "
I was ready to talk about some of the most critical campaign issues facing our city in years
," Orton said. "
Issues like building major beltways around the city, building a new airport and economic development, but no one would ask me those kinds of questions. They all wanted to talk about illegal immigration
."
Three candidates vying for a first-time seat on the St. George City Council who did pass the primary are supported by two groups that oppose illegal immigration: the political action committee called
Defend Dixie
and the group
Citizens Council Against Illegal Immigration
. Both political action groups have argued that St. George is becoming a "sanctuary city" for illegal immigration, citing an influx of Hispanic residents and an increase in the school system of Spanish-speaking children. However, according to
Ohio Jobs & Justice Political Action Committee (OJJPAC)
, St. George is not officially classified as a "sanctuary city"; the only Utah cities on their list are Salt Lake City and Provo.
The issue is also one that Rep. Glenn Donnelson, R-North Ogden, says his constituents want him to address. Donnelson has in the past sponsored bills to get tough on illegal immigrants, including a bill to repeal a state law that allows qualified undocumented students to pay in-state tuition. "
If we had enforced the law way back when, we wouldn't be having this problem now
," Donnelson said. "
We're trying to correct it now, and it's hard.... The federal government, they haven't got the guts to do anything about it
."
Predictably, a Hispanic lobby is dissenting from this point of view. Antonella Romero Packard, co-chairwoman of the Utah Hispanic Legislative Task Force, worries that justified frustration over the federal government's failure would lead to unjust and overly broad punitive legislation. "
It is disheartening
," she said. "
We're bracing ourselves for some nasty pieces of legislation that may be coming our way
." However, she fails to acknowledge that our failure to control our borders has allowed Mexico to send some pretty "nasty" people our way, too.
And finally, Third District Republican U.S. Congressman Chris Cannon is feeling the pinch for his uncertain stand on illegal immigration. He's already attracted two quality Republican primary opponents, Jason Chaffetz and Dan Leavitt. Cannon favors amnesty for many illegals and a liberal guest worker program.